While going through photos for another project, I came across a photo of my hubby and I on our honeymoon (12 years ago!!) that I didn't scrap in our honeymoon album. It immediately made me think "What would I tell us as a young, newly married couple?" So, that became the subject of the layout. The other black and white photo is from a photo shoot my hubby scheduled for us while I was pregnant...which totally is not the subject of the layout, it just happened to be a good picture of us taken a bit more recently.
The papers are mostly from the Maggie Holmes original line, the eyelet lace is vintage picked up in a yard sale. The heart paper the photos are matted on is from an ooooold K&Co. superslab...but it's very similar to the heart boca print in the Maggie Holmes new line, and the pinks matched the other paper, so I went for it. Some vellum ripped from my husbands drafting tablet and some other random scrap papers completed the layering. I really went to town on the diecuts and chipboard pieces, I threw some random scrap stuff in too, including the tag from some vintage rick rac, and a doily that I colored using gelatos. I didn't intend to hide my journaling, but decided I didn't want to journal right on my background paper, and didn't want to cover more of it up with a journaling block, so went for the bitty bag. Which of course I decided AFTER the other stuff was glued down, do I had to cut the bottom off...but I'll use it on another project. The pink floral paper and pink paper that I journaled on are from a DCWV paper pad, the little pink flag I cut from some verrrry old Basic Grey (remember when they did those pretty floral papers?) and the tag behind the floral chipboard is old fancy pants. So, if I count right, I think that's six manufacturers...and it all goes! No wait, make it seven, I cut into some Pebbles to get the blue notebook paper edge and to make the file tabs. No, eight, I used a label from Ellie's studio. I'll just stop counting now...but I'm pleased to have mixed so many different pieces in, it proves to myself I don't need entire collection packs to pull things together. :)
I also fell in love again with my much neglected stickles...I first used the gold to spruce up the camera (cut from the paper), and then decided to use them on my title to give it a little ombre effect. I love it. I love that while this page (to me) looks like one of those very pretty decorative pages, there is sooooo much meaning behind it. I tear up just looking at it.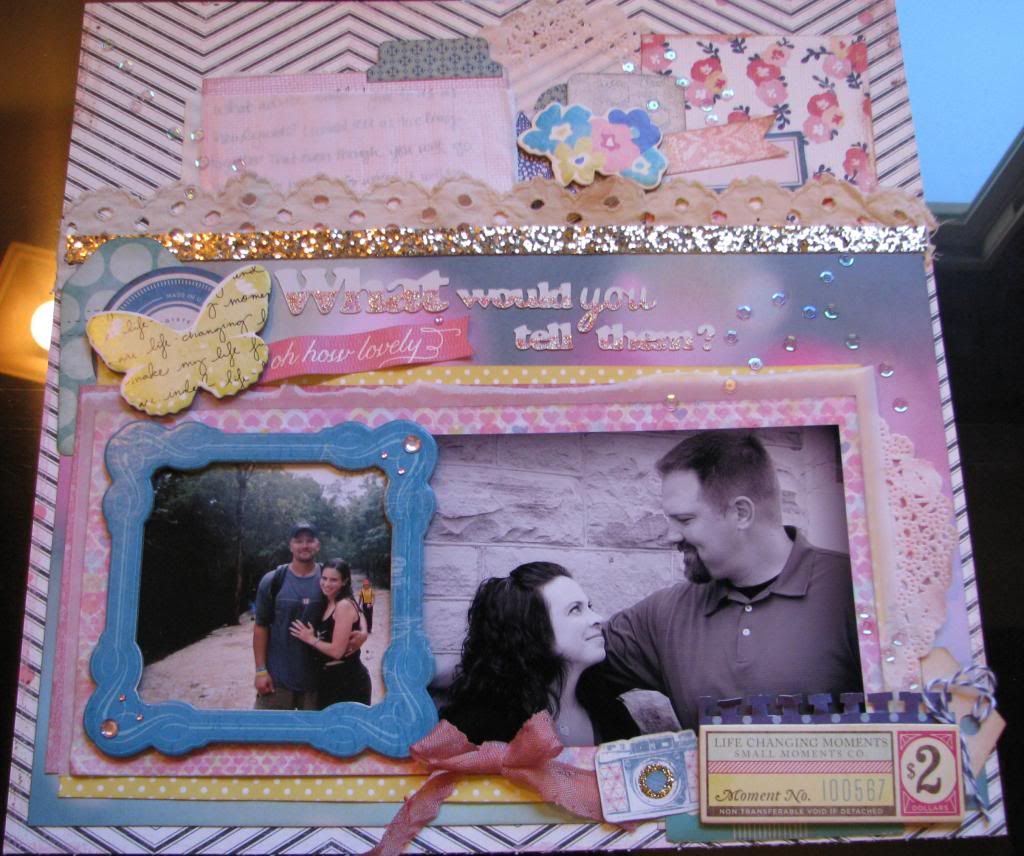 So, this leaves only a few more collections that I need to make that "first cut" into. It seriously lessens the pain of cutting into those whole sheets of paper if I've cut into at least one piece!! Now this layout is ready for an album, and it's off to another project. Thanks for stopping by!